Acceso desigualitario al aborto legal y criminalización y selectiva. Adelanto Informe Anual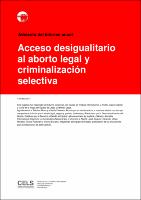 xmlui.dri2xhtml.METS-1.0.item-files-viewOpen
xmlui.dri2xhtml.METS-1.0.item-date
2017-03-07
xmlui.dri2xhtml.METS-1.0.item-author
Cardenas, Edurne
Lopez Cabello, Andres
Vega, Lucia de la
xmlui.dri2xhtml.METS-1.0.item-abstract
Adelanto del Informe Anual 2017 del Centro de Estudios Legales y Sociales, a días de cumplirse 5 años de la decisión de la Corte Suprema de Justicia de la Nación en el caso "F.A.L.", en el que reafirmó el derecho al aborto no punible, estableció criterios generales de interpretación y dio indicaciones explícitas y operativas para los distintos poderes y niveles del Estado. En el capítulo analizamos la implementación de la sentencia y los obstáculos que afectan en particular a las mujeres jóvenes y pobres y que forman parte de los reclamos que nos llevan a parar.
xmlui.mirage2.itemSummaryView.Collections
Related items
Showing items related by title, author, creator and subject.
Bergallo, Paola

(

CEDES/FEIM/IPPF

,

2007-10

)

Matía, Marisa

;

Trumper, Eugenia

;

Orlando Fures, Nery

;

Orchuela, Jimena

(

International Federation of Gynecology and Obstetrics

,

2016

)

OBJECTIVE: To describe the application of the risk and harm reduction model at primary care level to decrease the mortality due to unsafe abortion in the Province of Buenos Aires, Argentina, and evaluate the results. METHODS: ...