Packages of interventions for family planning, safe abortion care, maternal, newborn and child health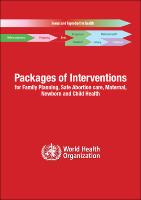 xmlui.dri2xhtml.METS-1.0.item-files-viewOpen
xmlui.dri2xhtml.METS-1.0.item-date
2010
xmlui.dri2xhtml.METS-1.0.item-author
World Health Organization
xmlui.dri2xhtml.METS-1.0.item-abstract
The evidence shows that high maternal, perinatal, neonatal and child mortality rates are associated with inadequate and poor quality health services. Evidence also suggests that explicit, evidence-based, cost effective packages of interventions can improve the processes and outcomes of health care when appropriately implemented. This document describes the key effective interventions organized in packages across the continuum of care through pre-pregnancy, pregnancy, childbirth, postpartum, newborn care and care of the child. The packages are defined for community and/or facility levels in developing countries and provide guidance on the essential components needed to assure adequacy and quality of care
xmlui.mirage2.itemSummaryView.Collections
Related items
Showing items related by title, author, creator and subject.
Ramos, Silvina

;

Romero, Mariana

;

Ramón Michel, Agustina

(

2014

)

Background: In Argentina, abortion has been decriminalized under certain circumstances since the enactment of the Penal Code in 1922. Nevertheless, access to abortion under this regulatory framework has been extremely ...

Corbett, Maureen R

;

Turner, Katherine L

(

Guttmacher

,

2003

)

In this comment, we chronicle the development and expansion of a postabortion care model designed to promote interventions that address abortion-related public health concerns even when abortion laws and policies are ...

Fiala, Christian

;

Arthur, Joyce H.

(

2014

)

In medicine, the vast majority of conscientious objection (CO) is exercised within the reproductive healthcare field – particularly for abortion and contraception. Current laws and practices in various countries around CO ...