Emergency Obstetric Care: Strategy for Reducing Maternal Mortality in Developing Countries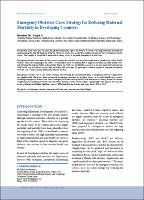 xmlui.dri2xhtml.METS-1.0.item-files-viewOpen
xmlui.dri2xhtml.METS-1.0.item-date
2014
xmlui.dri2xhtml.METS-1.0.item-author
Bhandari, TR
Dangal, G
xmlui.dri2xhtml.METS-1.0.item-abstract
Twenty-five years have passed since the global community agreed in Nairobi to address the high maternal mortality by implementing the Safe Motherhood Initiative. However, every year nearly three million women die due to pregnancy related causes. This tragedy is avoidable if women have timely access to required emergency obstetric care. Emergency obstetric care refers to life-saving services for maternal and neonatal complications provided by skilled health workers. Since the beginning of the 1980's, several efforts have been intensified to improve maternal and child health status and reducing the high morbidity and mortality. There was built on a worldwide consensus to provide improved maternal and child health care for addressing the high morbidity and mortality. All participant countries agreed to integrate emergency obstetric care services in their national health care system. Emergency obstetric care is one of the strategies for reducing the maternal mortality as pregnancy related complications are unpredictable. However, many women in developing countries do not have access to essential health care services including emergency obstetric care. Basic emergency obstetric care by skilled birth attendants or timely referral for further comprehensive emergency obstetric care can reduce maternal deaths and disabilities significantly. This paper is based on the results published in PubMed, Medline, Lancet, WHO and Google Scholar web pages from 1990 to 2013.
xmlui.mirage2.itemSummaryView.Collections
Related items
Showing items related by title, author, creator and subject.
Campbell, Oona

;

Aquino, Estela

;

Vwalika, Bellington

;

Gabrysch, Sabine

(

BMC Pregnancy and childbirth

,

2016

)

Background Annually, around 44 million abortions are induced worldwide. Safe termination of pregnancy (TOP) services can reduce maternal mortality, but induced abortion is illegal or severely restricted in many countries. ...

Diniz, Debora

;

Gumieri, Sara

;

Gallu, Bevilacqua

;

Cook, Rebecca J.

;

Dickens, Bernard M.

(

Wiley General Obstetrics and Gynecology

,

2016

)

The February 2016 WHO declaration that congenital Zika virus síndrome constitutes a Public Health Emergency of International Concern reacted to the outbreak of the syndrome in Brazil. Public health emergencies can justify ...

Matía, Marisa

;

Trumper, Eugenia

;

Orlando Fures, Nery

;

Orchuela, Jimena

(

International Federation of Gynecology and Obstetrics

,

2016

)

OBJECTIVE: To describe the application of the risk and harm reduction model at primary care level to decrease the mortality due to unsafe abortion in the Province of Buenos Aires, Argentina, and evaluate the results. METHODS: ...