Resolución 146/2012. Obligatoriedad de brindar acceso a los servicios de salud de calidad y confidencialidad del secreto médico en la atención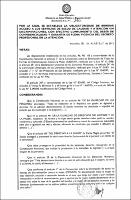 xmlui.dri2xhtml.METS-1.0.item-files-viewOpen
xmlui.dri2xhtml.METS-1.0.item-date
2012
xmlui.dri2xhtml.METS-1.0.item-author
Paraguay. Poder ejecutivo. Ministerio de Salud y Bienestar Social
xmlui.dri2xhtml.METS-1.0.item-abstract
La presente resolución garantiza el acceso a servicios de salud de calidad y atención sin discriminaciones, con efectivo cumplimiento de confidencialidad y garantía de plena vigencia del secreto profesional en la atención en la República del Paraguay. Como anexo contiene las Normas de atención postaborto.
xmlui.mirage2.itemSummaryView.Collections
Related items
Showing items related by title, author, creator and subject.
Paraguay. Ministerio de Salud y Bienestar Social

(

2012

)

La muerte de las mujeres por causas evitables es una de las más dolorosas e injustas manifestaciones de una sociedad con iniquidades sociales y de género. Las causas de la mortalidad materna en su gran mayoría son ...

Fundación ECOS – ESAR (Argentina)

(

2021-02-09

)

Este proyecto fue implementado por la Fundación ECOS en los meses de julio a septiembre de 2020, en articulación con 5 espacios de salud autogestivos ubicadas en diferentes localidades de Argentina que garantizan el acceso ...

Darney, Blair G.

;

Fuentes-Rivera, Evelyn

;

Polo, Gerardo

;

Saavedra-Avendaño, Biani

;

Alexander, Lily T.

;

Schiavon, Raffaela

(

International Journal of Gynecology & Obstetrics

,

2019

)

El objetivo del presente estudio fue describir la utilización de los servicios de salud y los casos fatales producto de los eventos abortivos a través del sistema de salud mexicano. El acceso al aborto inducido sigue siendo ...