Practice advisory: interim guidance for care of obstetric patients during a zika virus outbreak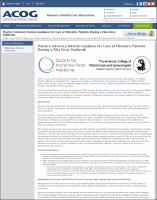 xmlui.dri2xhtml.METS-1.0.item-files-viewOpen
xmlui.dri2xhtml.METS-1.0.item-date
2016
xmlui.dri2xhtml.METS-1.0.item-author
American College of Obstetricians and Gynecologists (ACOG)
xmlui.dri2xhtml.METS-1.0.item-abstract
Zika during pregnancy has been associated with birth defects, specifically significant microcephaly. Transmission of Zika to the fetus has been documented in all trimesters; Zika virus RNA has been detected in fetal tissue from early missed abortions, amniotic fluid, term neonates and the placenta. However, much is not yet known about Zika virus in pregnancy. Uncertainties include the incidence of Zika virus infection among pregnant women in areas of Zika virus transmission, the rate of vertical transmission and the rate with which infected fetuses manifest complications such as microcephaly or demise. The absence of this important information makes management and decision making in the setting of potential Zika virus exposure (i.e. travel to endemic areas) or maternal infection, difficult. Currently, there is no vaccine or treatment for this infection.
xmlui.mirage2.itemSummaryView.Collections
Related items
Showing items related by title, author, creator and subject.
Gómes Ponce de León, Rodolfo

(

OPS

,

2017-06-26

)

Zika y Desarrollo Fetal, preguntas y algunas respuestas. Sintomatología en la infección por virus Zika. Definición de microcefalia. Síndrome congénito por Zika. WHO interim guidance on pregnancy management in the context ...

Fjerstad, M

;

Lichtenberg, ES

;

Trussell, J

;

Cleland, K

;

Cullins, V

(

2013

)

BACKGROUND: From 2001 to March 2006, Planned Parenthood Federation of America (Planned Parenthood) health centers throughout the United States provided medical abortions principally by a regimen of oral mifepristone, ...

Polis, Chelsea

;

Grimes, David

;

Schaffer, Kate

;

Blanchard, Kelly

;

Glasier, Anna

;

Harper, Cynthia

(

The Cochrane Collaboration

,

2010

)

Background Emergency contraception can prevent pregnancy when taken after unprotected intercourse.Obtaining emergency contraception within the recommended time frame is difficult for many women. Advance provision could ...