Los avances en el conocimiento científico del Zika en términos de comportamiento del virus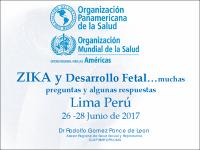 xmlui.dri2xhtml.METS-1.0.item-files-viewOpen
xmlui.dri2xhtml.METS-1.0.item-date
2017-06-26
xmlui.dri2xhtml.METS-1.0.item-author
Gómes Ponce de León, Rodolfo
xmlui.dri2xhtml.METS-1.0.item-abstract
Zika y Desarrollo Fetal, preguntas y algunas respuestas. Sintomatología en la infección por virus Zika. Definición de microcefalia. Síndrome congénito por Zika. WHO interim guidance on pregnancy management in the context of Zikavirus infection. Consideraciones provisionales para la atención de mujeres gestantes en escenarios con alta circulación del virus Zika: documento destinado a profesionales de salud. Prevención para la transmisión sexual del virus de Zika. Modos de transmisión sexual. Compromisos de la Región en el acceso a métodos anticonceptivos modernos ante la alerta del virus Zika. Zika en Brasil.
xmlui.mirage2.itemSummaryView.Collections
Related items
Showing items related by title, author, creator and subject.
Ospina, Martha Lucía

(

Instituto Nacional de Salud

,

2017-06-26

)

Muestra en gráficos los avances del Zika en Colombia. Mapa de la distribución mundial de Aedes aegypti – Situación de riesgo de endemicidad de aedes aegypti en Colombia – Notificación de casos Dengue, Chikungunya y Zika, ...

American College of Obstetricians and Gynecologists (ACOG)

(

ACOG

,

2016

)

Zika during pregnancy has been associated with birth defects, specifically significant microcephaly. Transmission of Zika to the fetus has been documented in all trimesters; Zika virus RNA has been detected in fetal tissue ...

Gil, Laura

(

FECOLSOG

,

2017-06

)

Indica que la mujer debe de contar con la información sobre sus derechos a decidir si interrumpir o no el nacimiento ante una posible adquisición del virus del Zika. Así como a tener conocimiento sobre los efectos ...