Consideraciones provisionales sobre la infección por el virus zika en mujeres gestantes. Documento destinado a profesionales de salud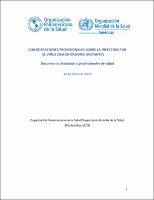 xmlui.dri2xhtml.METS-1.0.item-files-viewOpen
xmlui.dri2xhtml.METS-1.0.item-date
2016
xmlui.dri2xhtml.METS-1.0.item-author
Organización Panamericana de la Salud (OPS)
xmlui.dri2xhtml.METS-1.0.item-abstract
El propósito de este documento es brindar a los profesionales de salud que asisten a mujeres gestantes, información actualizada en base a las mejores evidencias disponibles para prevenir la infección, diagnosticarla oportunamente, sugerir tratamiento, dar seguimiento a las embarazadas, así como notificar el caso a las autoridades sanitarias competentes. La información que se presenta en este documento se encuentra actualizada hasta el 22 de enero de 2016 y podrá ser modificada en caso de aparecer nueva evidencia sobre los efectos / consecuencias de la infección por virus Zika en embarazadas y sus hijos. Nuevas actualizaciones podrán encontrase periódicamente en el sitio www.paho.org/viruszika
xmlui.mirage2.itemSummaryView.Collections
Related items
Showing items related by title, author, creator and subject.
Gómes Ponce de León, Rodolfo

(

OPS

,

2017-06-26

)

Zika y Desarrollo Fetal, preguntas y algunas respuestas. Sintomatología en la infección por virus Zika. Definición de microcefalia. Síndrome congénito por Zika. WHO interim guidance on pregnancy management in the context ...

Brasil. Ministério da Saúde. Secretaria de Vigilância em Saúde. Secretaria de Atencao à Saúde

(

Ministério da Saúde del Brasil

,

2017

)

Esta é a primeira edição do documento de Orientações Integradas de Vigilância e Atenção à Saúde no âmbito da Emergência de Saúde Pública de Importância Nacional, elaborado pelo Ministério da Saúde, por meio das Secretarias ...

Ospina, Martha Lucía

(

Instituto Nacional de Salud

,

2017-06-26

)

Muestra en gráficos los avances del Zika en Colombia. Mapa de la distribución mundial de Aedes aegypti – Situación de riesgo de endemicidad de aedes aegypti en Colombia – Notificación de casos Dengue, Chikungunya y Zika, ...