Morbilidad y mortalidad por aborto. Como usar la evidencia de los sistemas de información en salud. México como estudio de casos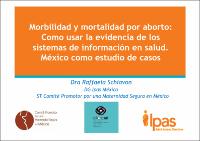 xmlui.dri2xhtml.METS-1.0.item-files-viewOpen
xmlui.dri2xhtml.METS-1.0.item-date
2014
xmlui.dri2xhtml.METS-1.0.item-author
Schiavon, Raffaela
xmlui.dri2xhtml.METS-1.0.item-abstract
Se presentarán metodologías e indicadores, basados en la Clasificación Internacional de Enfermedades y en los sistemas oficiales de información, para analizar las tendencias en la morbilidad y mortalidad por aborto, y el impacto del marco legal. Se utilizará a México como un estudio de caso.
xmlui.mirage2.itemSummaryView.Collections
Related items
Showing items related by title, author, creator and subject.
Singh, Susheela

;

Sedgh, Gilda

;

Bankole, Akinrinola

;

Hussain, Rubina

;

London, Susan

(

Guttmacher Institute

,

2012

)

La evidencia muestra que las leyes restrictivas del aborto contribuyen sustancialmente a la morbilidad y mortalidad maternas por aborto inseguro, y, en las últimas dos décadas, 26 países se han ampliado las condiciones ...

Gómez. Pio Iván

;

Molina, Ramiro

;

Zamberlin, Nina

(

Centro de Promoción y Defensa de los Derechos Sexuales y ReproductIvos-PROMSEX | | Federacion Latino Americana de Sociedades de Obstetricia y Ginecología |

,

2011

)

El embarazo en adolescentes menores de 15 años y el abuso y la violencia sexual como potencial causa de estos embarazos son problemas de salud pública y de derechos humanos que generan graves consecuencias biológicas, ...

Darney, Blair G.

;

Fuentes-Rivera, Evelyn

;

Polo, Gerardo

;

Saavedra-Avendaño, Biani

;

Alexander, Lily T.

;

Schiavon, Raffaela

(

International Journal of Gynecology & Obstetrics

,

2019

)

El objetivo del presente estudio fue describir la utilización de los servicios de salud y los casos fatales producto de los eventos abortivos a través del sistema de salud mexicano. El acceso al aborto inducido sigue siendo ...