Lo que debes saber sobre tu derecho al aborto terapeutico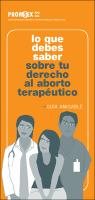 xmlui.dri2xhtml.METS-1.0.item-files-viewOpen
xmlui.dri2xhtml.METS-1.0.item-date
2007
xmlui.dri2xhtml.METS-1.0.item-author
Guerrero, Rosina
Chávez Alvarado, Susana
xmlui.dri2xhtml.METS-1.0.item-abstract
La decisión de continuar con una gestación, o interrumpirla, no resulta sencilla para las mujeres. Pero cuando un embarazo pone en riesgo la vida, o puede causar problemas graves en la salud de las mujeres, ellas tienen el derecho a solicitar una interrupción legal del embarazo. Eso, en el Perú, se llama aborto terapéutico.
xmlui.mirage2.itemSummaryView.Collections
Related items
Showing items related by title, author, creator and subject.
Barajas, María José

(

CLACAI

,

2017-11

)

El acceso real a los servicios de aborto seguro, especialmente en los servicios públicos, resulta uno de los desafíos más urgentes, pues su ausencia o disponibilidad restringida pone en riesgo la integridad, dignidad y ...

Auz Ceròn, Fernanda

(

Coordinadora Juvenil por la Equidad de Gènero

,

2014

)

Breve descripción del escenario social y político del país en el que se plantea la creación del espacio virtual "Jóvenes por la despenalización" como una herramienta de difusión que pretende democratizar los protocolos de ...

International Campaign for Women's Right to Safe Abortion

(

International Campaign for Women's Right to Safe Abortion

,

2017-06

)

The June 2017 issue of Health and Human Rights includes a special section on the intersections between abortion and human rights, and in particular the use of legal mobilization around abortion rights at domestic and ...