Programa de la Segunda Conferencia Subregional Cono Sur de CLACAI. El aborto en el Cono Sur: avances hacia el aborto seguro y legal. Buenos Aires, 4 y 5 de Noviembre de 2013.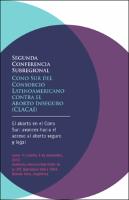 xmlui.dri2xhtml.METS-1.0.item-files-viewOpen
xmlui.dri2xhtml.METS-1.0.item-date
2013
xmlui.dri2xhtml.METS-1.0.item-author
Consorcio Latinoamericano contra el Aborto Inseguro (CLACAI)
xmlui.mirage2.itemSummaryView.Collections
Related items
Showing items related by title, author, creator and subject.
Matía, Marisa

;

Trumper, Eugenia

;

Orlando Fures, Nery

;

Orchuela, Jimena

(

International Federation of Gynecology and Obstetrics

,

2016

)

OBJECTIVE: To describe the application of the risk and harm reduction model at primary care level to decrease the mortality due to unsafe abortion in the Province of Buenos Aires, Argentina, and evaluate the results. METHODS: ...

Barajas, María José

(

CLACAI

,

2017-11

)

El acceso real a los servicios de aborto seguro, especialmente en los servicios públicos, resulta uno de los desafíos más urgentes, pues su ausencia o disponibilidad restringida pone en riesgo la integridad, dignidad y ...