Tysiac v. Poland, Appl. No. 5410/03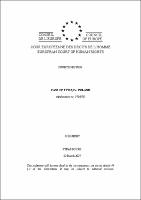 xmlui.dri2xhtml.METS-1.0.item-files-viewOpen
xmlui.dri2xhtml.METS-1.0.item-date
2007
xmlui.dri2xhtml.METS-1.0.item-author
Council of Europe. European Court of Human Rights
xmlui.dri2xhtml.METS-1.0.item-abstract
Este caso relata sobre una mujer polaca de 29 años, padeciendo de miopía severa. Pidió autorización de interrumpir su embarazo ya que percibía que su salud se estaba deteriorando. Un médico general consideró medicamente indicada el aborto pero los demás médicos consideraron que su salud no estaba en riesgo. No obstante, la mujer se quedó ciega después del parto. Se hizo una demanda ante La Corte Europea de Derechos Humanos que determinó que la imposibilidad de acceder al procedimiento tanto como la ausencia de mecanismos que permitieran controvertir las decisiones de los médicos, habían afectado, entre otros derechos, la integridad física de la mujer
xmlui.mirage2.itemSummaryView.Collections
Related items
Showing items related by title, author, creator and subject.
Gómez, Sara

(

O'Neill Institute for National and Global Health; Global Health Law Georgetown University; Ipas

,

2016

)

La relación de larga duración de confidencialidad entre prestador/a de servicios y paciente se está deteriorando silenciosamente, ya que un número alarmante de personal médico en toda Latinoamérica está denunciando a las ...

Consorcio Latinoamericano contra el Aborto Inseguro (CLACAI). Comité Jurídico

(

CLACAI

,

2015

)

El presente documentos describe las argumentaciones legales para dos casos que se están litigando en Ecuador y en donde las mujeres están siendo acusadas por asesinato tras tener un parto en casa. Caso 1: Denuncia del ...

Cabrera, Oscar

;

Reingold, Rebecca

;

Barajas, María José

(

CLACAI

,

2016

)

La reforma normativa y, particularmente, la reforma de las normas altamente restrictivas del aborto es un mecanismo fundamental para mejorar el acceso de las mujeres latinoamericanas a un procedimiento médico que puede ...