A magnitude do aborto por anencefalia: um estudo com médicos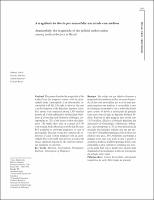 xmlui.dri2xhtml.METS-1.0.item-files-viewOpen
xmlui.dri2xhtml.METS-1.0.item-date
2009
xmlui.dri2xhtml.METS-1.0.item-author
Diniz, Debora
Penalva, Janaína
Faúndes, Anibal
Rosas, Cristião
xmlui.dri2xhtml.METS-1.0.item-abstract
Este artículo pretende describir la magnitud de la atención médica en casos de embarazo de un feto con anencefalia, a través de una investigación empírica con los médicos. La anencefalia es una malformación incompatible con la supervivencia del feto después del nacimiento. El derecho a abortar en este caso se encuentra en litigio en la Corte Suprema. Se realizó una investigación de la encuesta entre 1.814 médicos afiliados a la Federación Brasileña de Ginecología y Obstetricia (FEBRASGO), que corresponde al 12% del total de la entidad médica. Los resultados indican que en un grupo de 9.730 mujeres atendidas por los médicos en los últimos veinte años, el 85% prefiere interrumpir la gestación en estos casos. Estos datos muestran qué tan común es la experiencia de ayudar a las mujeres embarazadas con un feto anencefálico en los servicios de salud, así como el desafío ético impuesto por la ilegalidad del procedimiento médico de interrupción de la gestación en estos casos en Brasil.
xmlui.mirage2.itemSummaryView.Collections
Related items
Showing items related by title, author, creator and subject.
Ngo, Thoai

;

Park, Min Hae

;

Shakur, Haleema

;

Free, Caroline

(

2011

)

OBJETIVO: Comparar la efectividad, la seguridad y la aceptación de los abortos médicos practicados en el domicilio con aquellos realizados en la clínica. MÉTODOS: Se realizó una búsqueda sistemática de ensayos clínicos ...

Consorcio Latinoamericano contra el Aborto Inseguro (CLACAI). Comité Jurídico

(

CLACAI

,

2016

)

Presentamos este documento con el ánimo de contribuir con elementos jurisprudenciales y doctrinales, a ampliar los estándares internacionales de derechos humanos en relación a la vigencia del derecho al secreto profesional ...

Council of Europe. European Court of Human Rights

(

Council of Europe

,

2007

)

Este caso relata sobre una mujer polaca de 29 años, padeciendo de miopía severa. Pidió autorización de interrumpir su embarazo ya que percibía que su salud se estaba deteriorando. Un médico general consideró medicamente ...