Revisión de un estudio por Koch et al. sobre el impacto de las restricciones al aborto en la mortalidad materna en Chile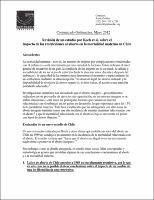 xmlui.dri2xhtml.METS-1.0.item-files-viewOpen
xmlui.dri2xhtml.METS-1.0.item-date
2012
xmlui.dri2xhtml.METS-1.0.item-author
Guttmacher Institute
xmlui.dri2xhtml.METS-1.0.item-abstract
En este comunicado se describen las fallas conceptuales y metodológicas graves que invalidan algunas de sus conclusiones concernientes al aborto y a la mortalidad materna del estudio de Koch y otros. Por lo cuál no altera el acervo de evidencia existente sobre el impacto de las restricciones al aborto sobre la mortalidad materna. En particular, dado que las leyes de aborto en Chile ya eran altamente restrictivas antes de 1989, el estudio no demuestra que el restringir significativamente las leyes de aborto no produzca un impacto negativo en la salud de las mujeres.
xmlui.mirage2.itemSummaryView.Collections
Related items
Showing items related by title, author, creator and subject.
Singh, Susheela

;

Sedgh, Gilda

;

Bankole, Akinrinola

;

Hussain, Rubina

;

London, Susan

(

Guttmacher Institute

,

2012

)

La evidencia muestra que las leyes restrictivas del aborto contribuyen sustancialmente a la morbilidad y mortalidad maternas por aborto inseguro, y, en las últimas dos décadas, 26 países se han ampliado las condiciones ...

Bahamondes, L

(

BJOG An International Journal of Obstetrics and Gynaecology

,

2018-11-05

)

El embarazo entre las niñas <19 años son principalmente embarazos no planificados (UP), en muchos casos, también no deseado y no deseado y la prevalencia se estima cinco veces mayor que en las mujeres mayores de 20 años. ...

Abracinskas, Lilian

;

López Gómez, Alejandra

(

MYSU

,

2004

)

Este informe presenta el estudio llevado a cabo en el marco del Programa 2002-2004 sobre derechos sexuales y derechos reproductivos de la red DAWN (Development Alternatives for Women for a New Era). En América Latina ...