Abortion and Clinical Practice. Abortion Review Papers from the bpas conference: London, 25 - 26 June 2008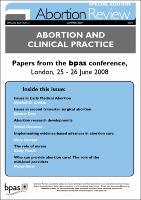 xmlui.dri2xhtml.METS-1.0.item-files-viewOpen
xmlui.dri2xhtml.METS-1.0.item-date
2009
xmlui.dri2xhtml.METS-1.0.item-author
Creinin, Mitchell
Drey, Eleanor
Grossman, Daniel
Fjerstad, Mary
French, Kathy
Berer, Marge
xmlui.dri2xhtml.METS-1.0.item-abstract
The groundbreaking bpas conference The Future of Abortion: Controversies and Care brought together clinicians, academics, policymakers and advocates from the UK, Europe and the USA for a discussion about all aspects of abortion provision. Taking place during a critical Parliamentary debate about the UK abortion law, the conference generated great excitement and presented a number of important research findings and policy suggestions.In order to maximise the strides made by The Future of Abortion conference in taking forward an international, interdisciplinary discussion, Abortion Review is producing a series of special editions in which we have published edited transcripts of the presentations. In this third edition, Abortion and Clinical Practice, the presentations examine developments in abortion research and practice, and what these might indicate for the kind of abortion service that should be provided.
xmlui.mirage2.itemSummaryView.Collections
Related items
Showing items related by title, author, creator and subject.
Royal College of Obstetricians and Gyneacologists

(

2022-03

)

Establece los elementos esenciales de la atención post-aborto basada en la evidencia, producida por organizaciones como la Organización Mundial de la Salud (OMS), el RCOG y el Instituto Nacional de Salud y Excelencia en ...

Royal College of Obstetricians and Gyneacologists

(

2022-03

)

Los documentos de mejores prácticas (BPP) son documentos genéricos revisados por pares que se pueden adaptar fácilmente a las circunstancias locales. Los documentos están dirigidos al personal que brinda atención médica ...

Zaidi, S

;

Begum, F

;

Tank, J

;

Chaudhury, P

;

Yasmin, H

;

Dissanayake, M

(

International Federation of Gynecology and Obstetrics

,

2014

)

Since 2008, the FIGO Initiative for the Prevention of Unsafe Abortion and its Consequences has contributed to ensuring the substitution of sharp curettage by manual vacuum aspiration (MVA) and medical abortion in selected ...