Estimaciones de los costos de abortos inseguros para los sistemas de atención sanitaria en África y América Latina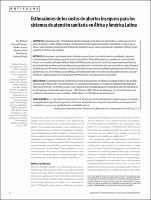 xmlui.dri2xhtml.METS-1.0.item-files-viewOpen
xmlui.dri2xhtml.METS-1.0.item-date
2009-09
xmlui.dri2xhtml.METS-1.0.item-author
Vlassoff, Michael
Walker, Damian
Shearer, Jessica
Newlands, David
Singh, Susheela
xmlui.dri2xhtml.METS-1.0.item-abstract
Cada año ocurren 19 millones de abortos inseguros en los países en desarrollo y se estima que cinco millones de mujeres reciben tratamiento por complicaciones médicas graves resultantes. Entretanto, es poco lo que se conoce sobre el impacto económico de la atención postaborto en los sistemas de atención sanitaria en África y América Latina (en Asia no hay estudios)
xmlui.mirage2.itemSummaryView.Collections
Related items
Showing items related by title, author, creator and subject.
Carino, Giselle

;

González Vélez, Ana Cristina

;

Durán, Juanita

;

Friedman, Jennifer

(

IPPF/WHR

,

2009

)

This publication is the result of a comparative analysis of laws and health regulations governing access to legal abortion in 13 countries: Bolivia, Brazil, Canada, Colombia, Guyana, Italy, Mexico, Norway, Panama, Peru, ...

Garay Zarraga, Ane

(

Mundubat

,

2016

)

El derecho a decidir sobre el propio cuerpo y la propia vida es uno de los derechos fundamentales de las mujeres y de las niñas, puesto que el cuerpo de cada persona debe ser respetado y no puede ser concebido como un ...

Santana, Diana

;

Ros Silvestre, José

;

Redwine, Dee

;

Tebbets, Diana

(

Mary Ann Liebert, Inc.

,

2017-10-17

)

Las consecuencias del aborto inseguro son devastadoras para las mujeres, sus familias, y sus comunidades. El aborto con medicamentos presenta una alternativa importante a las prácticas dañinas de autoinducción y la ...