Estimaciones de los costos de abortos inseguros para los sistemas de atención sanitaria en África y América Latina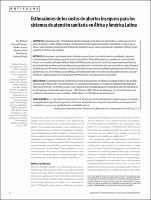 xmlui.dri2xhtml.METS-1.0.item-files-viewOpen
xmlui.dri2xhtml.METS-1.0.item-date
2009-09
xmlui.dri2xhtml.METS-1.0.item-author
Vlassoff, Michael
Walker, Damian
Shearer, Jessica
Newlands, David
Singh, Susheela
xmlui.dri2xhtml.METS-1.0.item-abstract
Cada año ocurren 19 millones de abortos inseguros en los países en desarrollo y se estima que cinco millones de mujeres reciben tratamiento por complicaciones médicas graves resultantes. Entretanto, es poco lo que se conoce sobre el impacto económico de la atención postaborto en los sistemas de atención sanitaria en África y América Latina (en Asia no hay estudios)
xmlui.mirage2.itemSummaryView.Collections
Related items
Showing items related by title, author, creator and subject.
Peñas Defago, María Angélica

;

Morán Faúndes, José Manuel

;

Vaggione, Juan Marco

(

Global Philanthropy Project

,

2018-11

)

Este trabajo sistematiza y analiza algunas dimensiones claves del impacto de los conservadurismos religiosos sobre los derechos y comunidades LGBTI. Describimos y analizamos las principales estrategias, fuentes de ...

Ganchimeg, T.| |Ota, E.| |Morisaki, N.| |Laopaiboon, M.| |Lumbiganon, P.| |Zhang, J.| |Mori, R.

(

Inernational Journal of Obstetrics Gynecology

,

2013

)

Tuvo como objetivo investigar el riesgo de resultados adversos del embarazo entre adolescentes en 29 países. El diseño utilizado fue un análisis secundario utilizando datos transversales basados en instalaciones de la ...

Zamberlin, Nina

;

Romero, Mariana

;

Ramos, Silvina

(

Reproductive Health

,

2012

)

El aborto está legalmente restringido en la mayoría de América Latina donde 95 % de los 4.4 millones de abortos que se realizan anualmente son inseguros. El aborto con medicamentos es el uso de una droga o una combinación ...