Información Básica de Honduras. Salud reproductiva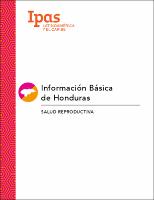 xmlui.dri2xhtml.METS-1.0.item-files-viewOpen
xmlui.dri2xhtml.METS-1.0.item-date
2021
xmlui.dri2xhtml.METS-1.0.item-abstract
La toma de decisiones en salud reproductiva requiere de información oportuna y puntual. En este documento compartimos datos sobre Honduras, que pueden considerarse en la elaboración de planes, programas y acciones, y para tomar decisiones en materia de políticas públicas en el área de la salud reproductiva. Los campos que se revisan son: Demografía, Fecundidad global, Fecundidad específica en adolescentes; Prevalencia anticonceptiva en mujeres en edad fértil; Demanda insatisfecha de anticonceptivos; Defunciones maternas en mujeres de todas las edades; Abuso sexual; y Muerte por violencia de género.
xmlui.mirage2.itemSummaryView.Collections
Related items
Showing items related by title, author, creator and subject.
Salinas Mulder, Silvia

;

Castro Mantilla, María Dolores

;

Fernández Ovando, Claudia

(

Plan Internacional; UNICEF. Oficina Regional para América Latina y el Caribe

,

2014-08

)

Plan Internacional y la Oficina Regional para América Latina y el Caribe de UNICEF realizaron seis estudios cualitativos sobre factores sociales, culturales y emocionales que inciden en el embarazo en adolescentes en ...

Taylor, M.A., Alice Y.

;

Murphy-Graham, Erin

;

Van Horn, Julia

;

Vaitla, , Bapu P.

;

Del Valle, Ángel

;

Cislaghi, Beniamino

(

Journal of Adolescent Health

,

2018

)

El propósito de este artículo es demostrar que los matrimonios y las uniones infantiles pueden infringir los derechos sexuales y reproductivos de adolescentes y jóvenes. Indica que las intervenciones promueven cada vez más ...

xmlui.dri2xhtml.METS-1.0.no-author

(

IPAS Centroamérica y México (CAM)

,

2020-04

)

Uno de los principales argumentos a favor de la despenalización del aborto es que la penalización de servicios de salud únicamente para las mujeres, incluido el aborto, es una forma de discriminación en contra de las ...