Información Básica de Panamá. Salud reproductiva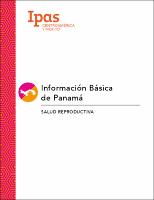 xmlui.dri2xhtml.METS-1.0.item-files-viewOpen
xmlui.dri2xhtml.METS-1.0.item-date
2021
xmlui.dri2xhtml.METS-1.0.item-abstract
La toma de decisiones en salud reproductiva requiere de información oportuna y puntual. En este documento compartimos datos sobre Panamá que pueden considerarse en la elaboración de planes, programas, acciones y para tomar decisiones en materia de políticas públicas en el área de salud reproductiva. Los campos que se revisan son: Demografía, Fecundidad global, Fecundidad específica en adolescentes; Prevalencia anticonceptiva en mujeres en edad fértil; Demanda insatisfecha de anticonceptivos; Defunciones maternas en mujeres de todas las edades; Abuso sexual; y Muerte por violencia de género.
xmlui.mirage2.itemSummaryView.Collections
Related items
Showing items related by title, author, creator and subject.
Didas, Claudia

;

Castillo, Isabel

;

Galán, Guillermo

(

Miles; IPAS

,

2017-04

)

Da a conocer las Normativa y Protocolos que tienen siete países para llevar a cabo la interrupción voluntaria del embarazo de acuerdo a la situación legal particular (Argentina, Brasil, Colombia, Ciudad de México, El ...

Carino, Giselle

;

González Vélez, Ana Cristina

;

Durán, Juanita

;

Friedman, Jennifer

(

IPPF/WHR

,

2009

)

This publication is the result of a comparative analysis of laws and health regulations governing access to legal abortion in 13 countries: Bolivia, Brazil, Canada, Colombia, Guyana, Italy, Mexico, Norway, Panama, Peru, ...

Ortiz Avendaño, Guillermo

(

IPAS Health Access Right; LACAI

,

2019-06-18

)

La ponencia presentada en la Conferencia Temática sobre Provisión de Servicios realizada en Santa Cruz, Bolivia, en Junio de 2019, muestra las cifras del aborto a nivel mundial, datos de las causales de aborto en Mexico, ...