Voces de obstétricas de Argentina: entre disputas, experiencias, saberes y pasiones.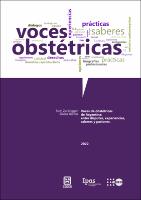 xmlui.dri2xhtml.METS-1.0.item-files-viewOpen
xmlui.dri2xhtml.METS-1.0.item-date
2022
xmlui.dri2xhtml.METS-1.0.item-author
Zurbriggen, Ruth
Ramos, Silvina
xmlui.dri2xhtml.METS-1.0.item-abstract
Se enmarca en la estrategia conjunta que CEDES y UNFPA-Argentina desarrollan para fortalecer el trabajo de las/los obstétricas/os en la Argentina y en el plan 2022 del Grupo de Trabajo de Obstétricas de REDAAS. Muestra algunos desafíos que viven quienes incursionaron en el campo de la salud sexual, reproductiva y no reproductiva y en las consejerías en opciones. Señala las dificultades y oportunidades enfrentadas en contextos de las relaciones de poder que atraviesan el ejercicio de sus funciones y competencias en los servicios de salud.
xmlui.mirage2.itemSummaryView.Collections
Related items
Showing items related by title, author, creator and subject.
xmlui.dri2xhtml.METS-1.0.no-author

(

REDAAS

,

2022

)

Este video es parte de la campaña comunicacional que lanzamos para impulsar el tratamiento de la ley que regule el ejercicio profesional de las obstétricas en Argentina el cual se enmarca en la estrategia conjunta que CEDES ...

Gómez. Pio Iván

;

Molina, Ramiro

;

Zamberlin, Nina

(

Centro de Promoción y Defensa de los Derechos Sexuales y ReproductIvos-PROMSEX | | Federacion Latino Americana de Sociedades de Obstetricia y Ginecología |

,

2011

)

El embarazo en adolescentes menores de 15 años y el abuso y la violencia sexual como potencial causa de estos embarazos son problemas de salud pública y de derechos humanos que generan graves consecuencias biológicas, ...

Dides, Claudia

;

Fernández, Constanza

(

Corporación Miles; Cartholics for Choice and IPPF

,

2017-04-17

)

El informe que presentamos a continuación hace parte del Observatorio de Salud Sexual, Reproductiva y Derechos Humanos de la Corporación Miles, cuyo propósito es monitorear y dar seguimiento al estado de situación de la ...