Un testimonio sincero sobre el aborto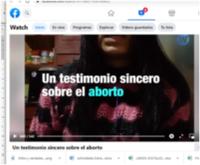 xmlui.dri2xhtml.METS-1.0.item-files-viewOpen
xmlui.dri2xhtml.METS-1.0.item-date
2020
xmlui.dri2xhtml.METS-1.0.item-abstract
Testimonio de una mujer que tomó la decisión de practicarse un aborto publicado en el facebook de Wayka
xmlui.mirage2.itemSummaryView.Collections
Related items
Showing items related by title, author, creator and subject.
Vera, Cristina Ana

(

Centro de Apoyo y Protección de los DDHH-Surkuna Ecuador

,

2017-11

)

Enumera el corolario de la judicialización de todos los eventos reproductivos penalizados de las mujeres. Muestra testimonios de mujeres penalizadas asi como cuadros con denuncias por aborto a las mujeres por centros de salud

Evans, Dabney P.

;

Narasimhan, Subasri

(

Sexual and Reproductive Health Matters

,

2020

)

Los proyectos de ley relativos a los latidos cardíacos fetales han pasado a ser la medida legislativa antiaborto preferida en la guerra de EE. UU. contra la salud y los derechos sexuales y reproductivos. En 2019, el Proyecto ...

Consorcio Latinoamericano contra el Aborto Inseguro (CLACAI)

;

Centro de Estudios de Estado y Sociedad (CEDES)

(

CLACAI

,

2016

)

Este video contiene testimonios acerca de la publicación "Investigación sobre aborto en América Latina y El Caribe :una agenda renovada para informar políticas públicas e incidencia", es un estado del arte que reúne el ...