Adolescent parenthood associated with adverse socio-economic outcomes at age 30 years in women and men of the Pelotas, Brazil: 1982 Birth Cohort Study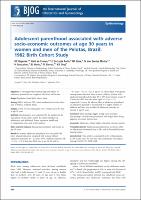 xmlui.dri2xhtml.METS-1.0.item-files-viewOpen
xmlui.dri2xhtml.METS-1.0.item-date
2018-09
xmlui.dri2xhtml.METS-1.0.item-author
Gigante, Denise P
Vinícius Araújo de, França Giovanny
De Lucia Rolfe, Emanuella
Lima, Natália P
Vieira dos Santos Motta, Janaína
Gonçalves, Helen
Horta, Bernardo L
Barros, Fernando C
Ong, Ken K
xmlui.dri2xhtml.METS-1.0.item-abstract
El artículo tiene como objetivo investigar los posibles efectos a largo plazo de la paternidad adolescente en la educación e ingresos completos. El diseño utilizado fue un estudio de cohorte de nacimiento basado en la población. Los estudiados nacieron vivos en 1982, cuyas madres vivían en el área urbana de Pelotas, sur de Brasil. La muestra fue de un total de 3.701 participantes; 1914 mujeres y 1787 hombres a la edad de 30 años. Los métodos utilizados fueron los cuestionarios, los que fueron completados por las madres en las primeras fases de este estudio y por los miembros de la cohorte en la adolescencia y la edad adulta. Se utilizaron modelos de regresión lineal y computación g en los análisis
xmlui.mirage2.itemSummaryView.Collections
Related items
Showing items related by title, author, creator and subject.
Ngo, Thoai

;

Park, Min Hae

;

Shakur, Haleema

;

Free, Caroline

(

2011

)

OBJETIVO: Comparar la efectividad, la seguridad y la aceptación de los abortos médicos practicados en el domicilio con aquellos realizados en la clínica. MÉTODOS: Se realizó una búsqueda sistemática de ensayos clínicos ...

Reveiz, Ludovic

(

OPS

,

2017-06-26

)

Expone los siguientes temas: Agendas de investigación sobre Zika – Evaluación de la implementación de la agenda: identificación de brechas – Plataforma de protocolos sobre ZIKV -- Características de estudios incluidos en ...

Grossman, Daniel

(

The American College of Obstetricians and Gynecologists

,

2017

)

El objetivo del presente estudio fue el de comparar la proporción de abortos médicos con un evento adverso clínicamente significativo entre pacientes de telemedicina y presenciales en un sistema de clínicas en Iowa durante ...