Patient-reported acceptability of receiving medication for abortion via telemedicine at Planned Parenthood health centers in seven states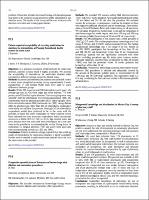 xmlui.dri2xhtml.METS-1.0.item-files-viewOpen
xmlui.dri2xhtml.METS-1.0.item-date
2018
xmlui.dri2xhtml.METS-1.0.item-author
Snow, J,
Thompson, T-A
Garnsey, C.
J Kohn, J.
Grossman, D
xmlui.dri2xhtml.METS-1.0.item-abstract
In a previous evaluation of telemedicine for medication abortion, patients in Iowa found it highly acceptable. We assessed the acceptability of telemedicine for medication abortion when translated to different settings across the United States.
xmlui.mirage2.itemSummaryView.Collections
Related items
Showing items related by title, author, creator and subject.
Fernandes, KG

;

Camargo, RP

;

Duarte, GA

;

Faúndes, Anibal

;

Sousa, MH

;

Maia Filho, NL

;

Pacagnella, RC

(

2012

)

OBJECTIVE: To assess the knowledge of Brazilian medical students regarding medical abortion (MA) and the use of misoprostol for MA, and to investigate factors influencing their knowledge. METHODS: All students from 3 medical ...

Jelinskaa, Kinga

;

Yanowb, Susan

(

ELSEVIER

,

2017-05-29

)

The promise of medical abortion to both reduce maternal mortality and morbidity from unsafe abortion and to expand the reproductive rights of women can only be realized if information and reliable medicines are available ...

Zamberlin, Nina

;

Romero, Mariana

;

Ramos, Silvina

(

Reproductive Health

,

2012

)

El aborto está legalmente restringido en la mayoría de América Latina donde 95 % de los 4.4 millones de abortos que se realizan anualmente son inseguros. El aborto con medicamentos es el uso de una droga o una combinación ...