Putting abortion pills into women's hands: realizing the full potential of medical abortion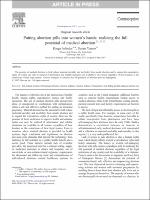 xmlui.dri2xhtml.METS-1.0.item-files-viewOpen
xmlui.dri2xhtml.METS-1.0.item-date
2017-05-29
xmlui.dri2xhtml.METS-1.0.item-author
Jelinskaa, Kinga
Yanowb, Susan
xmlui.dri2xhtml.METS-1.0.item-abstract
The promise of medical abortion to both reduce maternal mortality and morbidity from unsafe abortion and to expand the reproductive rights of women can only be realized if information and reliable medicines are available to all women, regardless of their location or the restrictions of their legal system. Activist strategies to actualize the full potential of abortion pills are highlighted
xmlui.mirage2.itemSummaryView.Collections
Related items
Showing items related by title, author, creator and subject.
Barnard, S

;

Kim, C

;

Park, MH

;

Ngo, TD

(

Cochrane Library

,

2015

)

BACKGROUND: The World Health Organization recommends that abortion can be provided at the lowest level of the healthcare system. Training mid-level providers, such as midwives, nurses and other non-physician providers, to ...

Pathfinder International

(

Pathfinder International

,

2008-10

)

As many as 2.5 million adolescent women seek abortion each year, and nearly 70,000 women die from complications related to unsafe abortion, of which almost half are women under the age of 25. A further 5 million women ...

Ramos, Silvina

;

Romero, Mariana

;

Aizenberg, Lila

(

Reproductive Health Matters

,

2014

)

This article presents the findings of a qualitative study exploring the experiences of women living in Buenos Aires Metropolitan Area, Argentina, with the use of misoprostol for inducing an abortion. We asked women about ...