Putting abortion pills into women's hands: realizing the full potential of medical abortion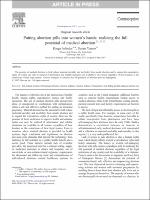 xmlui.dri2xhtml.METS-1.0.item-files-viewOpen
xmlui.dri2xhtml.METS-1.0.item-date
2017-05-29
xmlui.dri2xhtml.METS-1.0.item-author
Jelinskaa, Kinga
Yanowb, Susan
xmlui.dri2xhtml.METS-1.0.item-abstract
The promise of medical abortion to both reduce maternal mortality and morbidity from unsafe abortion and to expand the reproductive rights of women can only be realized if information and reliable medicines are available to all women, regardless of their location or the restrictions of their legal system. Activist strategies to actualize the full potential of abortion pills are highlighted
xmlui.mirage2.itemSummaryView.Collections
Related items
Showing items related by title, author, creator and subject.
Ramos, Silvina

;

Romero, Mariana

;

Aizenberg, Lila

(

Reproductive Health Matters

,

2014

)

This article presents the findings of a qualitative study exploring the experiences of women living in Buenos Aires Metropolitan Area, Argentina, with the use of misoprostol for inducing an abortion. We asked women about ...

Fiol, V

;

Briozzo, L

;

Labandera, A

;

Recchi, V

;

Piñeyro, M

(

2012

)

OBJECTIVE: To describe the initial stages of the implementation of a risk-reduction model designed by Iniciativas Sanitarias to shield women from unsafe abortion in a traditional community on the Uruguay-Brazil border. ...

Ramos, Silvina

;

Romero, Mariana

;

Ramón Michel, Agustina

(

2014

)

Background: In Argentina, abortion has been decriminalized under certain circumstances since the enactment of the Penal Code in 1922. Nevertheless, access to abortion under this regulatory framework has been extremely ...