How legal restrictions on abortion are harming women all over the world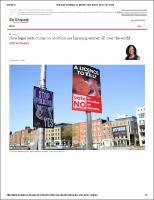 xmlui.dri2xhtml.METS-1.0.item-files-viewOpen
xmlui.dri2xhtml.METS-1.0.item-date
2018-05-22
xmlui.dri2xhtml.METS-1.0.item-author
Starrs, A. N. N. M
xmlui.dri2xhtml.METS-1.0.item-abstract
. El ensayo destaca algunos de los últimos datos publicados sobre el aborto a nivel mundial, entre ellos el impacto del aborto inseguro, y subraya el daño provocado por las restricciones legales ya que aumentan la probabilidad de que el aborto sea inseguro. Comenta que Irlanda enfrenta una votación histórica sobre si reformar las leyes de aborto del país que se encuentran entre los más restrictivos de Europa. Actualmente, las mujeres en Irlanda que necesitan un aborto se ven obligadas a viajar al extranjero, generalmente Inglaterra, o pueden recurrir a la terminación clandestina de sus embarazos.
xmlui.mirage2.itemSummaryView.Collections
Related items
Showing items related by title, author, creator and subject.
xmlui.dri2xhtml.METS-1.0.no-author

(

CLACAI

,

2018-08-03

)

Argumentación de la posición de Rebecca J. Cook, Profesora Emérita de Derecho. Facultad de Derecho, Universidad de Toronto, Canadá en nombre de Consorcio Latinoamericano contra el Aborto Inseguro (CLACAI) en la Audiencia ...

Bahamondes, L

(

BJOG An International Journal of Obstetrics and Gynaecology

,

2018-11-05

)

El embarazo entre las niñas <19 años son principalmente embarazos no planificados (UP), en muchos casos, también no deseado y no deseado y la prevalencia se estima cinco veces mayor que en las mujeres mayores de 20 años. ...

Gamarra Herrera, Ronald

;

Uceda Peréz, Ricardo

;

Gianella Malca, Gonzalo

(

Promsex

,

2011

)

Desde sus inicios, el Centro de Promoción y Defensa de los Derechos Sexuales y Reproductivos (PROMSEX) viene abogando por la implementación de una guía práctica clínica o protocolo para la atención de mujeres que necesitan ...