Abortion Worldwide 2017: Uneven Progress and Unequal AccessAbortion Worldwide 2017: Uneven Progress and Unequal Access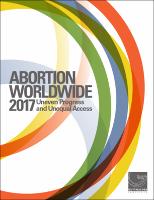 xmlui.dri2xhtml.METS-1.0.item-files-viewOpen
xmlui.dri2xhtml.METS-1.0.item-date
2018
xmlui.dri2xhtml.METS-1.0.item-author
Singh, Susheela
Remez, Lisa
Sedgh, Gilda
Kwok, Lorraine
Onda, Tsuyoshi
xmlui.dri2xhtml.METS-1.0.item-abstract
Un nuevo informe comprensivo lanzado por el Guttmacher Institute destaca las continuas disparidades en las tasas de aborto y en el acceso a servicios de aborto seguro en las regiones en desarrollo y desarrolladas. El informe, publicado en inglés con el título Abortion Worldwide 2017: Uneven Progress and Unequal Access (resumen ejecutivo disponible en español), reúne las últimas investigaciones sobre incidencia, seguridad y legalidad del aborto, así como sobre embarazos no planeados.
xmlui.mirage2.itemSummaryView.Collections
Related items
Showing items related by title, author, creator and subject.
Campbell, Oona

;

Aquino, Estela

;

Vwalika, Bellington

;

Gabrysch, Sabine

(

BMC Pregnancy and childbirth

,

2016

)

Background Annually, around 44 million abortions are induced worldwide. Safe termination of pregnancy (TOP) services can reduce maternal mortality, but induced abortion is illegal or severely restricted in many countries. ...

Ramos, Silvina

;

Romero, Mariana

;

Ramón Michel, Agustina

(

2014

)

Background: In Argentina, abortion has been decriminalized under certain circumstances since the enactment of the Penal Code in 1922. Nevertheless, access to abortion under this regulatory framework has been extremely ...

Barnard, S

;

Kim, C

;

Park, MH

;

Ngo, TD

(

Cochrane Library

,

2015

)

BACKGROUND: The World Health Organization recommends that abortion can be provided at the lowest level of the healthcare system. Training mid-level providers, such as midwives, nurses and other non-physician providers, to ...