Women's experiences with the use of medical abortion in a legally restricted context: the case of Argentina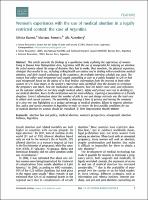 xmlui.dri2xhtml.METS-1.0.item-files-viewOpen
xmlui.dri2xhtml.METS-1.0.item-date
2014
xmlui.dri2xhtml.METS-1.0.item-author
Ramos, Silvina
Romero, Mariana
Aizenberg, Lila
xmlui.dri2xhtml.METS-1.0.item-abstract
This article presents the findings of a qualitative study exploring the experiences of women living in Buenos Aires Metropolitan Area, Argentina, with the use of misoprostol for inducing an abortion. We asked women about the range of decisions they had to make, their emotions, the physical experience, strategies they needed to use, including seeking health care advice and in dealing with a clandestine medical abortion, and their overall evaluation of the experience. An in-depth interview schedule was used. The women had either used misoprostol and sought counselling or care at a public hospital (n=24) or had used misoprostol based on the advice of a local hotline, information from the internet or from other women (n=21). Four stages in the women's experiences were identified: how the decision to terminate the pregnancy was taken, how the medication was obtained, how the tablets were used, and reflections on the outcome whether or not they sought medical advice. Safety and privacy were key in deciding to use medical abortion. Access to the medication was the main obstacle, requiring a prescription or a friendly drugstore. Correct information about the number of pills to use and dosage intervals was the least easy to obtain and caused concerns. The possibility of choosing a time of privacy and having the company of a close one was highlighted as a unique advantage of medical abortion. Efforts to improve abortion law, policy and service provision in Argentina in order to ensure the best possible conditions for use of medical abortion by women should be redoubled.
xmlui.mirage2.itemSummaryView.Collections
Related items
Showing items related by title, author, creator and subject.
Fjerstad, M

;

Lichtenberg, ES

;

Trussell, J

;

Cleland, K

;

Cullins, V

(

2013

)

BACKGROUND: From 2001 to March 2006, Planned Parenthood Federation of America (Planned Parenthood) health centers throughout the United States provided medical abortions principally by a regimen of oral mifepristone, ...

World Health Organization

(

World Health Organization

,

2018

)

La atención médica relacionada con el aborto abarca el tratamiento de diversas afecciones clínicas, incluido el aborto espontáneo e inducido (embarazos tanto viables como no viables), el aborto incompleto y la muerte fetal ...

Jelinskaa, Kinga

;

Yanowb, Susan

(

ELSEVIER

,

2017-05-29

)

The promise of medical abortion to both reduce maternal mortality and morbidity from unsafe abortion and to expand the reproductive rights of women can only be realized if information and reliable medicines are available ...