De las normas a la práctica: una caja de herramientas para implementar el derecho al aborto legal en Argentina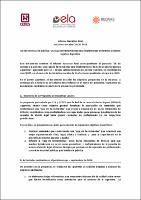 xmlui.dri2xhtml.METS-1.0.item-files-viewOpen
xmlui.dri2xhtml.METS-1.0.item-date
2016
xmlui.dri2xhtml.METS-1.0.item-author
Equipo Latinoamericano de Justicia y Género (ELA)
Centro de Estudios de Estado y Sociedad (CEDES)
xmlui.dri2xhtml.METS-1.0.item-abstract
El presente es un Informe narrativo final correspondiente al proyecto "De las normas a la práctica: una caja de herramientas para implementar el derecho al aborto legal en Argentina", ejecutado por ELA – Equipo Latinoamericano de Justicia y Género, en coordinación con CEDES, en el marco de las Iniciativas Locales de CLACAI correspondientes al ejercicio 2016. En el primer apartado, el documento describe los objetivos propuestos en la iniciativa. A continuación, enumera las actividades desarrolladas en el marco del programa.
xmlui.mirage2.itemSummaryView.Collections
Related items
Showing items related by title, author, creator and subject.
Matía, Marisa

;

Trumper, Eugenia

;

Orlando Fures, Nery

;

Orchuela, Jimena

(

International Federation of Gynecology and Obstetrics

,

2016

)

OBJECTIVE: To describe the application of the risk and harm reduction model at primary care level to decrease the mortality due to unsafe abortion in the Province of Buenos Aires, Argentina, and evaluate the results. METHODS: ...

Grosso, Belén

;

Zurbriggen, Ruth

(

ELA; CEDES

,

2016

)

Socorristas en Red (feministas que abortamos) es una de las acciones colectivas por el acceso al aborto seguro con medicamentos, desarrollada por colectivas feministas radicadas en Argentina. Se conforma en el año 2012 ...

Romero, Mariana

(

Red de Acceso al Aborto Seguro-Argentina

,

2017-11

)

Describe las funciones que debe cumplir los sistemas de salud e información. Enumera los objetivos del 2003 de la OMS sobre la salud en el mundo. El seguimiento de la CIPD en América Latina y el Caribe en el 2004. Los ...