Provisión de abortos por profesionales de la salud no médicos. Parteras profesionales en México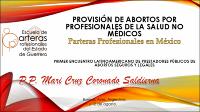 xmlui.dri2xhtml.METS-1.0.item-files-viewOpen
xmlui.dri2xhtml.METS-1.0.item-date
2016
xmlui.dri2xhtml.METS-1.0.item-author
Coronado Saldierra, Mari Cruz
xmlui.dri2xhtml.METS-1.0.item-abstract
Presentación en el Primer encuentro latinoamericano de prestadores públicos de abortos seguros y legales. CLACAI; CEDES, Buenos Aires, 11 y 12 de Agosto de 2016
xmlui.mirage2.itemSummaryView.Collections
Related items
Showing items related by title, author, creator and subject.
Campbell, Oona

;

Aquino, Estela

;

Vwalika, Bellington

;

Gabrysch, Sabine

(

BMC Pregnancy and childbirth

,

2016

)

Background Annually, around 44 million abortions are induced worldwide. Safe termination of pregnancy (TOP) services can reduce maternal mortality, but induced abortion is illegal or severely restricted in many countries. ...

xmlui.dri2xhtml.METS-1.0.no-author

(

Kaleidos-Centro de etnografía interdisciplinaria

,

2022

)

Basado en entrevistas con representantes de organizaciones sociales, activistas y personal médico, así como en una revisión bibliográfica y documental, este estudio tuvo el objetivo de mapear las principales rutas y barreras ...

Ramón Michel, Agustina

;

Ariza Navarrete, Sonia

(

CLACAI

,

2017-02

)

En este documento, se argumenta que existe un derecho exigible a la aprobación y disponibilidad del misoprostol y mifepristona, y que su incumplimiento por parte de los Estados revela un comportamiento sistemático de ...