Serviços de aborto legal no Brasil – um estudo nacional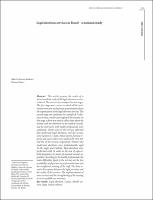 xmlui.dri2xhtml.METS-1.0.item-files-viewOpen
xmlui.dri2xhtml.METS-1.0.item-date
2016
xmlui.dri2xhtml.METS-1.0.item-author
Pereira Madeiro, Alberto
Diniz, Debora
xmlui.dri2xhtml.METS-1.0.item-abstract
O artigo descreve os resultados de um estudo com métodos mistos nos serviços de aborto legal no país. Foram avaliados 68 serviços, em duas etapas. Na primeira, censitária, um questionário eletrônico com perguntas sobre organização dos serviços de aborto legal foi enviado a todas as instituições. A segunda, amostral e presencial, foi realizada em 5 serviços de referência, um para cada região do país, com aplicação de formulário para coletar dados das mulheres e do aborto nos arquivos de prontuários, além de 82 entrevistas com profissionais de saúde. Dos serviços, 37 informaram que realizam aborto legal e em 7 estados não estavam ativos. Boletim de ocorrência, laudo pericial e alvará judicial foram solicitados por 14%, 8% e 8% dos serviços, respectivamente. As mulheres que abortaram tinham predominantemente entre 15-29 anos, e eram solteiras e católicas. O aborto foi por estupro, até 14 semanas, com emprego da aspiração manual intrauterina. Para os profissionais, as principais dificuldades no funcionamento dos serviços são a pequena disponibilidade de médicos para o aborto e a capacitação escassa da equipe. Os dados mostram que ainda há distanciamento entre a previsão legal e a realidade dos serviços. A implementação de novos serviços e o fortalecimento dos existentes são ações necessárias. Artículo disponible en portugués y en inglés
xmlui.mirage2.itemSummaryView.Collections
Related items
Showing items related by title, author, creator and subject.
Bergallo, Paola

(

CEDES/FEIM/IPPF

,

2007-10

)

Matía, Marisa

;

Trumper, Eugenia

;

Orlando Fures, Nery

;

Orchuela, Jimena

(

International Federation of Gynecology and Obstetrics

,

2016

)

OBJECTIVE: To describe the application of the risk and harm reduction model at primary care level to decrease the mortality due to unsafe abortion in the Province of Buenos Aires, Argentina, and evaluate the results. METHODS: ...