Threats of retrocession in sexual and reproductive health policies in Brazil during the Zika epidemic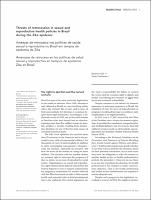 xmlui.dri2xhtml.METS-1.0.item-files-viewOpen
xmlui.dri2xhtml.METS-1.0.item-date
2016
xmlui.dri2xhtml.METS-1.0.item-author
Galli, Beatriz
Deslandes, Suely
xmlui.dri2xhtml.METS-1.0.item-abstract
The Zika virus epidemic, officially declared a global emergency, and the threats of retrocession in the Legislative Branch, like Bill of Law n. 5.059, Brazil runs the risk of counteracting the measures needed to guarantee women's sexual and reproductive health, as expressed by the World Health Organization and the Office of the United Nations High Commissioner for Human Rights, calling on governments to fulfill their responsibility to reverse restrictive laws and policies, expand access to comprehensive sexual and reproductive health services, and guarantee access to information and the right to health for all women, without discrimination
xmlui.mirage2.itemSummaryView.Collections
Related items
Showing items related by title, author, creator and subject.
Fiala, Christian

;

Arthur, Joyce H.

(

2014

)

In medicine, the vast majority of conscientious objection (CO) is exercised within the reproductive healthcare field – particularly for abortion and contraception. Current laws and practices in various countries around CO ...

Campbell, Oona

;

Aquino, Estela

;

Vwalika, Bellington

;

Gabrysch, Sabine

(

BMC Pregnancy and childbirth

,

2016

)

Background Annually, around 44 million abortions are induced worldwide. Safe termination of pregnancy (TOP) services can reduce maternal mortality, but induced abortion is illegal or severely restricted in many countries. ...

Gómez. Pio Iván

;

Molina, Ramiro

;

Zamberlin, Nina

(

Centro de Promoción y Defensa de los Derechos Sexuales y ReproductIvos-PROMSEX | | Federacion Latino Americana de Sociedades de Obstetricia y Ginecología |

,

2011

)

El embarazo en adolescentes menores de 15 años y el abuso y la violencia sexual como potencial causa de estos embarazos son problemas de salud pública y de derechos humanos que generan graves consecuencias biológicas, ...