Los determinantes socioculturales y comunitarios de los embarazos no deseados y los abortos inseguros. Villa El Salvador, Perú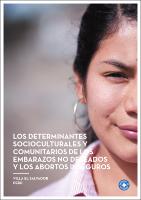 xmlui.dri2xhtml.METS-1.0.item-files-viewOpen
xmlui.dri2xhtml.METS-1.0.item-date
2015
xmlui.dri2xhtml.METS-1.0.item-author
Antonielli, Alila
Del Mastro, Irene
Rose, María Lucía
Guzmán, Mayra
Sambieni, Emmanuel
Giboin, Catherine
Clochard, Delpine
Estrada, Rosa María
Iglesias, Tanit
Simon, Sandrine
xmlui.dri2xhtml.METS-1.0.item-abstract
En el distrito de Villa El Salvador los embarazos no deseados (END) y abortos inseguros atañen mayormente a adolescentes y mujeres adultas unidas en situación de vulnerabilidad social y económica. El presente estudio cualitativo entrevistó a 21 profesionales de salud, 6 asistentes sociales y educadores, 8 actores de la sociedad civil que trabajan por los derechos y la salud de las mujeres y 3 mujeres que han tenido experiencias de END y/o abortos. Se hicieron 4 grupos focales con 8 promotoras de salud, 6 actoras de la sociedad civil y 10 promotores adolescentes hombres y mujeres entre 13 y 18 años. El objetivo fue de documentar y analizar los determinantes socioculturales de los END y de los abortos inseguros
xmlui.mirage2.itemSummaryView.Collections
Related items
Showing items related by title, author, creator and subject.
Bahamondes, L

(

BJOG An International Journal of Obstetrics and Gynaecology

,

2018-11-05

)

El embarazo entre las niñas <19 años son principalmente embarazos no planificados (UP), en muchos casos, también no deseado y no deseado y la prevalencia se estima cinco veces mayor que en las mujeres mayores de 20 años. ...

xmlui.dri2xhtml.METS-1.0.no-author

(

Asociación Profamilia

,

2020-12

)

La presente investigación indaga sobre los conocimientos de la población en general frente al aborto, a la vez que profundiza en las necesidades y oportunidades que tienen las personas usuarias y potencialmente usuarias ...

CLACAI

;

FLASOG

(

CLACAI; FLASOG

,

2020-07

)

Da cuenta de la relevancia de la problemática del embarazo y, en particular, del embarazo forzado y/o embarazo no intencional en niñas y adolescentes menores de 15 años en el contexto latinoamericano y resalta la importancia ...