El aborto en Chile: ¿disputa social o jurídica?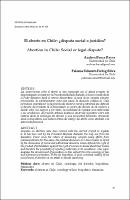 xmlui.dri2xhtml.METS-1.0.item-files-viewOpen
xmlui.dri2xhtml.METS-1.0.item-date
2015
xmlui.dri2xhtml.METS-1.0.item-author
Baeza Reyes, Andrea
Schmitt-Fiebig Silva, Paloma
xmlui.dri2xhtml.METS-1.0.item-abstract
despenalización enviado por la Presidenta Michelle Bachelet, el único enviado desde el Poder Ejecutivo desde el retorno democrático. A pesar de los variados intentos provenientes de parlamentarios para esta causa, la discusión política en Chile permanece cooptada por la hegemonía del discurso moral y patriarcal que defiende el derecho del producto de la fecundación en contra del derecho de las mujeres a decidir sobre sus cuerpos y por tanto, la posibilidad de rechazar una maternidad o sus condiciones. El presente artículo analiza el desarrollo legislativo sobre esta materia desde la sociología del derecho y una perspectiva feminista, ofreciendo desde la biopolítica, una lectura crítica del castigo del aborto como atentado a la autonomía femenina
xmlui.mirage2.itemSummaryView.Collections
Related items
Showing items related by title, author, creator and subject.
Cabrera, Oscar

;

Reingold, Rebecca

;

Barajas, María José

(

CLACAI

,

2016

)

La reforma normativa y, particularmente, la reforma de las normas altamente restrictivas del aborto es un mecanismo fundamental para mejorar el acceso de las mujeres latinoamericanas a un procedimiento médico que puede ...

Casas, Lidia

;

Vivaldi, Lieta

;

Silva, María Cristina

;

Bravo, María Costanza

;

Navarro, Consuelo

;

Sandoval, Fernanda

(

Universidad Diego Portales

,

2013

)

Este estudio describe, a través de entrevistas a mujeres que han interrumpido su embarazo, las prácticas del aborto en Chile y argumenta que la clandestinidad vulnera sus derechos humanos. Pese a su ilegalidad, se estima ...

International Campaign for Women's Right to Safe Abortion

(

International Campaign for Women's Right to Safe Abortion

,

2017-06

)

The June 2017 issue of Health and Human Rights includes a special section on the intersections between abortion and human rights, and in particular the use of legal mobilization around abortion rights at domestic and ...