Caribbean initiative on abortion and contraception: Acercando el Caribe a América Latina en la lucha por el aborto seguro, Puerto Rico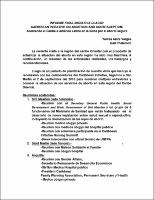 xmlui.dri2xhtml.METS-1.0.item-files-viewOpen
xmlui.dri2xhtml.METS-1.0.item-date
2015
xmlui.dri2xhtml.METS-1.0.item-author
Azize, Yamila
Gail, Pheterson
xmlui.dri2xhtml.METS-1.0.item-abstract
Describe las actividades realizadas en la visita a la región del caribe Oriental con el propósito de actualizar la situación del aborto, parece ser un momento histórico muy particular en esta región del Caribe Oriental con una clara tendencia hacia la liberalización en lo que toca a la legislación sobre aborto. Dado el contexto particular de ser regiones geográficas pequeñas, donde la intimidad y estigma se ven más vulnerados, la colaboración internacional en lo tocante al tema del aborto es bienvenida y ciertamente podría contribuir a facilitar el diálogo entre los tres sectores más afectados las mujeres, profesionales de salud y el sector gubernamental
xmlui.mirage2.itemSummaryView.Collections
Related items
Showing items related by title, author, creator and subject.
Abracinskas, Lilian

(

2014

)

En base a las definiciones ideológicas de los partidos en los gobiernos de la región, visualizar el mapa político y el contexto en el que se han producido cambios en torno a la situación del aborto. El objetivo es identificar ...

xmlui.dri2xhtml.METS-1.0.no-author

(

Articulación Feminista por la Libertad de Decidir, AFLD por la libertad de decidir; Escuela de Salud Pública "Dr. Salvador Allende G.", Facultad de Medicina, Universidad de Chile

,

2020

)

Realiza una breve introducción sobre el aborto en Chile. El capítulo 1 aborda los derechos postergados en Chile, el tema del aborto y salud pública en Chile(argumentos para una legislación que espera desde hace casi 80 ...

Prandini Assis, Mariana

;

Larrea, Sara

(

Sexual and Reproductive Health Matters

,

2020

)

Ante la pandemia de COVID-19 que han afectado los sistemas de atención de la salud en todo el mundo a través de un aumento sin precedentes de la demanda, los gobiernos y los proveedores de atención médica enfrentan la ...