Legal Abortion: A Comparative Analysis of Health Regulations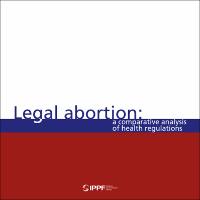 xmlui.dri2xhtml.METS-1.0.item-files-viewOpen
xmlui.dri2xhtml.METS-1.0.item-date
2009
xmlui.dri2xhtml.METS-1.0.item-author
Carino, Giselle
González Vélez, Ana Cristina
Durán, Juanita
Friedman, Jennifer
xmlui.dri2xhtml.METS-1.0.item-abstract
This publication is the result of a comparative analysis of laws and health regulations governing access to legal abortion in 13 countries: Bolivia, Brazil, Canada, Colombia, Guyana, Italy, Mexico, Norway, Panama, Peru, Puerto Rico, South Africa, and Spain. It seeks to promote access to safe and legal abortion services by developing health regulations and guidelines that are grounded in a human rights framework.
xmlui.mirage2.itemSummaryView.Collections
Related items
Showing items related by title, author, creator and subject.
Ramos, Silvina

;

Romero, Mariana

;

Ramón Michel, Agustina

(

2014

)

Background: In Argentina, abortion has been decriminalized under certain circumstances since the enactment of the Penal Code in 1922. Nevertheless, access to abortion under this regulatory framework has been extremely ...

Guttmacher Institute

(

Guttmacher Institute

,

2011-08

)

Since the Supreme Court handed down its 1973 decisions in Roe v. Wade and Doe v. Bolton, states have constructed a lattice work of abortion law, codifying, regulating and limiting whether, when and under what circumstances ...

Campbell, Oona

;

Aquino, Estela

;

Vwalika, Bellington

;

Gabrysch, Sabine

(

BMC Pregnancy and childbirth

,

2016

)

Background Annually, around 44 million abortions are induced worldwide. Safe termination of pregnancy (TOP) services can reduce maternal mortality, but induced abortion is illegal or severely restricted in many countries. ...