Fortalecimiento de la información sobre el aborto legal en mujeres de organizaciones comunitarias y proveedores de salud del primer nivel de atención en la provincia de Sullana, Perú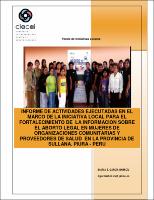 xmlui.dri2xhtml.METS-1.0.item-files-viewOpen
xmlui.dri2xhtml.METS-1.0.item-date
2010
xmlui.dri2xhtml.METS-1.0.item-author
Perú. Oficina Capacitación Subregion Salud
xmlui.dri2xhtml.METS-1.0.item-abstract
El objetivo del proyecto es incrementar la información sobre el aborto terapéutico y el protocolo de atención aprobado, en los proveedores de salud. Y fortalecer la exigibilidad del derecho al acceso al aborto legal en mujeres de organizaciones comunitarias.
xmlui.mirage2.itemSummaryView.Collections
Related items
Showing items related by title, author, creator and subject.
Campbell, Oona

;

Aquino, Estela

;

Vwalika, Bellington

;

Gabrysch, Sabine

(

BMC Pregnancy and childbirth

,

2016

)

Background Annually, around 44 million abortions are induced worldwide. Safe termination of pregnancy (TOP) services can reduce maternal mortality, but induced abortion is illegal or severely restricted in many countries. ...

Rostagnol, Susana

(

Comisión Sectorial de Investigación Científica (CSIC) de la Universidad de la República

,

2016

)

El trabajo trata sobre el vínculo entre el aborto voluntario y las relaciones de género. Se considera que la ocurrencia y el significado del aborto voluntario se corresponde con la forma en que los distintos grupos ...

Laza Vásquez, Celmira

;

Castiblanco Montañez, Ruth Alexandra

(

Fundación Index

,

2014

)

La Interrupción voluntaria del embarazo (IVE) irrumpió en la sociedad colombiana en medio de un controvertido debate no ajeno a los profesionales de la salud, al despenalizarse el aborto bajo tres situaciones: cuando la ...