Secreto profesional: una obligación del personal de salud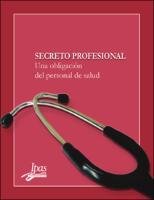 xmlui.dri2xhtml.METS-1.0.item-files-viewOpen
xmlui.dri2xhtml.METS-1.0.item-date
2008
xmlui.dri2xhtml.METS-1.0.item-author
Padilla Zúniga, Karen
Gutiérrez Gadea, Lesbia
Gutiérrez Cruz, Dayra
xmlui.dri2xhtml.METS-1.0.item-abstract
Esta publicación ha sido elaborada con la finalidad de servir como herramienta de bolsillo para el personal de salud a fin de recordarle su obligación de respetar la confidencialidad de las personas que atienden. Nos presenta el Secreto Profesional como el punto de partida de la Ética Médica y los Derechos Humanos y comparte la Base Legal que respalda su obligatoriedad en Nicaragua. Finalmente, se reafirma el compromiso del personal de salud con la población usuaria a garantizar el respeto a su privacidad, libertad individual, integridad personal, dignidad y no discriminación, todos estos derechos relacionados con su Derecho a la Salud
xmlui.mirage2.itemSummaryView.Collections
Related items
Showing items related by title, author, creator and subject.
Gómez, Sara

(

O'Neill Institute for National and Global Health; Global Health Law Georgetown University; Ipas

,

2016

)

La relación de larga duración de confidencialidad entre prestador/a de servicios y paciente se está deteriorando silenciosamente, ya que un número alarmante de personal médico en toda Latinoamérica está denunciando a las ...

Women´s Link Worldwide

(

Women´s Link Worldwide

,

2010

)

Los derechos y obligaciones constitucionales frente a la prestación del servicio de aborto, reconocidos a partir de la sentencia C-355/06 y la jurisprudencia posterior de la Corte Constitucional, tienen plena vigencia. ...

Diniz, Debora

;

Gumieri, Sara

;

Gallu, Bevilacqua

;

Cook, Rebecca J.

;

Dickens, Bernard M.

(

Wiley General Obstetrics and Gynecology

,

2016

)

The February 2016 WHO declaration that congenital Zika virus síndrome constitutes a Public Health Emergency of International Concern reacted to the outbreak of the syndrome in Brazil. Public health emergencies can justify ...