2019 Contraceptive Security Indicators Report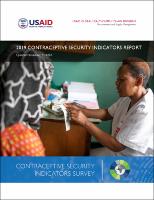 xmlui.dri2xhtml.METS-1.0.item-files-viewOpen
xmlui.dri2xhtml.METS-1.0.item-date
2020-11-23
xmlui.dri2xhtml.METS-1.0.item-author
USAID Global Health Supply Chain Program
xmlui.dri2xhtml.METS-1.0.item-abstract
USAID, en el marco del Proyecto USAID / DELIVER, desarrolló los Indicadores de Seguridad anticonceptiva (CS) sus siglas en inglés , en 2009 para ayudar a los gerentes de programas de ayuda, defensores y tomadores de decisiones a nivel nacional y global a medir y rastrear el progreso de los países en la mejora del acceso a los anticonceptivos, particularmente en aquellas áreas que requieren una mayor concentración. GHSC-PSM se hizo cargo de la recopilación de datos en 2017 y realiza la encuesta cada dos años. En 2017, 36 países de África, Eurasia, América Latina y el Caribe respondieron a la encuesta. En 2019, 43 países respondieron a la encuesta. Con una guía de seguridad anticonceptiva cada persona puede elegir, obtener y usar anticonceptivos de calidad, siempre que los necesite para la planificación familiar o para la prevención del VIH y SiDA u otras enfermedades de transmisión sexual. Un manual de recopilación y uso de datos ayuda a orientar las respuestas. Con la finalidad de ayudar a los usuarios de datos a mejorar la interpretación de los datos recientemente recopilados "El antiguo índice de seguridad anticonceptiva" se puede encontrar en el anexo C de este documento
xmlui.mirage2.itemSummaryView.Collections
Related items
Showing items related by title, author, creator and subject.
xmlui.dri2xhtml.METS-1.0.no-author

(

Corporación Miles

,

2020

)

Con la finalidad de observar cómo ha sido el acceso de las personas a la salud sexual y reproductiva durante la pandemia, qué prestaciones se han visto más afectadas y cómo las personas han podido observar estas dificultades. ...

xmlui.dri2xhtml.METS-1.0.no-author

(

IPAS Centroamérica y México (CAM)

,

2020

)

Es responsabilidad del proveedor de salud informar sobre métodos anticonceptivos para prevenir un embarazo no deseado a corto, mediano o largo plazo. La consejería anticonceptiva es parte fundamental en el proceso de ...

Moseso, Heidi

;

Ouedraogo, Ramatou

;

Diallo, Soukeyna

;

Sakho, Amy

(

Journal Sexual and Reproductive Health Matters; vol. 27, n° 2

,

2019-06-19

)

Este artículo presenta una investigación formativa sobre la práctica del infanticidio, el asesinato intencional o negligencia fatal de un niño menor de un año de edad. Nuestra hipótesis es que la ley del aborto en Senegal, ...