Protocolo aborto con medicamentos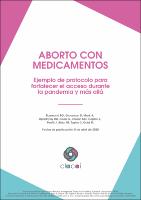 xmlui.dri2xhtml.METS-1.0.item-files-viewOpen
xmlui.dri2xhtml.METS-1.0.item-date
2020-04-08
xmlui.dri2xhtml.METS-1.0.item-author
Raymond
Grossman
Mark
xmlui.dri2xhtml.METS-1.0.item-abstract
Ejemplo de protocolo para fortalecer el acceso durante la pandemia y más allá, que tiene como propósito facilitar la provisión segura y efectiva de aborto con medicamentos sin pretratamiento obligatorio, ultrasonido, examen pélvico o pruebas de laboratorio cuando sea necesario y apropiado dado que estas pruebas puedan resultar en barreras significativas al acceso y en el contexto de la pandemia podrían aumentar la transmisión entre pacientes y trabajadores de la salud
xmlui.mirage2.itemSummaryView.Collections
Related items
Showing items related by title, author, creator and subject.
Gobierno de México. Secretaría de Salud

(

2020-04-10

)

Ante el escenario epidemiológico en que nos encontramos, con presencia de transmisión comunitaria y reconociendo las estimaciones de casos asintomáticos, consideran importante señalar que, no se puede establecer unidades ...

Royal College of Obstetrics and Gynecology (RCOG)

(

REDAAS

,

2020-03-21

)

Resumen de recomendaciones del Royal College of Obstetrics and Gyneacology (RCOG) para la atención del aborto temprano en el contexto de la pandemia del COVID-19. Indica que la prioridad es la provisión de atención segura ...

Borges Martins da Silva Paro, Helena

;

Rosas Cristião, Fernando

(

Rede Médica pelo direito de decidir: Global Doctors for Choice/Brasil

,

2020-03-31

)

Últimamente se ha visto la suspensión de los servicios de aborto previstos por la legislación brasileña como un plan de contingencia ante la pandemia de COVID-19. Aunque estamos de acuerdo con la suspensión de los servicios ...