Posicionamiento oficial de Global Doctors for Choice Brazil (GDC): Para mantener los servicios de aborto legal en Brasil durante la pandemia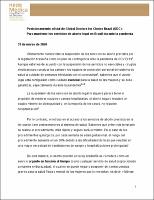 xmlui.dri2xhtml.METS-1.0.item-files-viewOpen
xmlui.dri2xhtml.METS-1.0.item-date
2020-03-31
xmlui.dri2xhtml.METS-1.0.item-author
Borges Martins da Silva Paro, Helena
Rosas Cristião, Fernando
xmlui.dri2xhtml.METS-1.0.item-abstract
Últimamente se ha visto la suspensión de los servicios de aborto previstos por la legislación brasileña como un plan de contingencia ante la pandemia de COVID-19. Aunque estamos de acuerdo con la suspensión de los servicios no esenciales y cirugías electivas para canalizar las camas y los equipos de protección personal del sistema de salud al cuidado de personas infectadas con el coronavirus defendemos que se mantengan todos los servicios de aborto provistos por la legislación en Brasil (los pocos existentes) durante la crisis de salud que enfrentamos en este momento. Sugerimos al Ministerio de Salud para minimizar los riesgos lo siguiente: La aprobación del registro de la mifepristona por la Agencia Nacional de Vigilancia Sanitaria (ANVISA) y del aborto con medicamentos fuera del ambiente hospitalario. La regulación de la aspiración intrauterina manual como procedimiento ambulatorio. La regulación de salud a distancia/telesalud para los servicios de aborto legal en Brasil. La regulación del aborto quirúrgico en el segundo trimestre en lugares donde se encuentre un especialista capacitado para realizar el procedimiento y La conservación de los servicios de planificación familiar, especialmente para la inserción de dispositivos intrauterinos.
xmlui.mirage2.itemSummaryView.Collections
Related items
Showing items related by title, author, creator and subject.
Cavalcanti, Clarissa

;

Rondón, Gabriela

(

Anís – Instituto de Bioética

,

2020-11-30

)

El 3 de febrero de 2020, el Ministerio de Salud de Brasil declaró Emergencia de Salud Pública de Importancia Nacional (ESPIN) por el nuevo coronavirus. Aunque el inicio de la pandemia ocurrió más tarde que en otros países, ...

Prandini Assis, Mariana

;

Larrea, Sara

(

Sexual and Reproductive Health Matters

,

2020

)

Ante la pandemia de COVID-19 que han afectado los sistemas de atención de la salud en todo el mundo a través de un aumento sin precedentes de la demanda, los gobiernos y los proveedores de atención médica enfrentan la ...

Ramón, Michel Agustina

;

Ariza Navarrete, Sonia

;

Chávez, Susana

(

Frontiers in Global Women's Health, section Contraception and Family Planning

,

2022-08-01

)

El rápido aumento de la demanda de servicios de salud como resultado del brote de COVID-19 ha creado importantes desafíos para los sistemas de salud. Las autoridades sanitarias nacionales e internacionales han declarado ...