Argumentos anti-derechos en el Congreso Argentino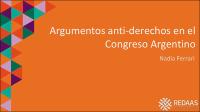 xmlui.dri2xhtml.METS-1.0.item-files-viewOpen
xmlui.dri2xhtml.METS-1.0.item-date
2019
xmlui.dri2xhtml.METS-1.0.item-author
Ferrari, Nadia
xmlui.dri2xhtml.METS-1.0.item-abstract
Menciona las sesiones realizadas en la Cámara de Diputados y de Senadores. Enumeró el perfil de las/los exponentes anti. Un análisis del debate legislativo sobre la Ley de Interrupción Voluntaria del Embarazo en Argentina. Describe los argumentos jurídicos presentados: Constitucionalidad de la reforma normativa. Estándares internacionales de derechos humanos. Colisión de derechos. Uso del derecho penal y Negación de servicios por razones de conciencia. Describe los argumentos de Salud Pública: Cifras sobre la magnitud del aborto. Impacto de la legalización en las prácticas de la salud. Efectos del clima de ilegalidad. La seguridad del aborto. Costo del aborto para el sistema de salud, las mujeres y sus familias y Consecuencias del aborto sobre la salud mental de las mujeres. Describe los argumentos sociales y culturales: La autonomía y la libertad para decidir. Construcción y valoración de la vida. La responsabilidad del Estado. La clandestinidad. Los movimientos sociales, las demandas de la sociedad y sus valores vinculados. Muestra las conclusiones
xmlui.mirage2.itemSummaryView.Collections
Related items
Showing items related by title, author, creator and subject.
Ramón Michel, Agustina

;

Ariza Navarrete, Sonia

(

CLACAI

,

2017-02

)

En este documento, se argumenta que existe un derecho exigible a la aprobación y disponibilidad del misoprostol y mifepristona, y que su incumplimiento por parte de los Estados revela un comportamiento sistemático de ...

Reingold, Rebecca

(

O´Neill Institute for Natural and Global Health Law o Georgetown Law

,

2019-09-04

)

Menciona que las expresiones presentadas son las de la ponente y no necesariamente representan las de O"Neil Institute. Describe la siguiente estructura de la presentación: Trabajo del Instituto O"Neil. Panorama regional ...

Centro de Estudios Legales y Sociales (CELS)

;

International Network for the Reduction of Abortion Discrimination and Stigma (INROADS)

(

CELS; INROADS

,

2016

)

Describe argumentos para despenalizar y legalizar el aborto temprano. El material se encuentra disponible en español y en inglés.