Medical management of abortion, 2018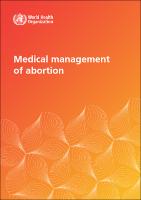 xmlui.dri2xhtml.METS-1.0.item-files-viewOpen
xmlui.dri2xhtml.METS-1.0.item-date
2018
xmlui.dri2xhtml.METS-1.0.item-author
World Health Organization
xmlui.dri2xhtml.METS-1.0.item-abstract
La atención médica relacionada con el aborto abarca el tratamiento de diversas afecciones clínicas, incluido el aborto espontáneo e inducido (embarazos tanto viables como no viables), el aborto incompleto y la muerte fetal intrauterina, así como la anticoncepción posterior al aborto. El tratamiento médico del aborto generalmente implica un régimen combinado de mifepristona y misoprostol o un régimen solo de misoprostol. La atención médica relacionada con el aborto desempeña un papel crucial en el acceso a servicios de atención segura, efectiva y aceptable. Tanto en entornos de alto y bajo nivel de recursos, el uso de métodos médicos de aborto ha contribuido al intercambio y el intercambio de tareas y al uso más eficiente de los recursos. Además, muchas intervenciones en la atención del aborto con medicamentos, particularmente las que se encuentran en el embarazo temprano, ahora pueden brindarse a nivel de atención primaria y ambulatoria, lo que aumenta aún más el acceso a la atención. La atención médica del aborto reduce la necesidad de proveedores de servicios de aborto quirúrgico capacitados y ofrece una opción no invasiva y altamente aceptable para las personas embarazadas
xmlui.mirage2.itemSummaryView.Collections
Related items
Showing items related by title, author, creator and subject.
Gonzalez, Macarena

;

Juárez, Elisa

(

CLACAI; SAAF. Fondo de Acción para el Aborto Seguro

,

2019

)

La presente investigación constituyó un proceso sumamente interesante, en tanto permitió visibilizar las dificultades que enfrentan las organizaciones y redes de provisión de servicios de aborto para realizar su labor. ...

Darney, Blair G.

;

Fuentes-Rivera, Evelyn

;

Polo, Gerardo

;

Saavedra-Avendaño, Biani

;

Alexander, Lily T.

;

Schiavon, Raffaela

(

International Journal of Gynecology & Obstetrics

,

2019

)

El objetivo del presente estudio fue describir la utilización de los servicios de salud y los casos fatales producto de los eventos abortivos a través del sistema de salud mexicano. El acceso al aborto inducido sigue siendo ...

Zamberlin, Nina

;

Romero, Mariana

;

Ramos, Silvina

(

Reproductive Health

,

2012

)

El aborto está legalmente restringido en la mayoría de América Latina donde 95 % de los 4.4 millones de abortos que se realizan anualmente son inseguros. El aborto con medicamentos es el uso de una droga o una combinación ...