Conferencia temática.Oportunidades y desafíos en el acceso al aborto legal y seguro: La provisión de servicios en el segundo trimestre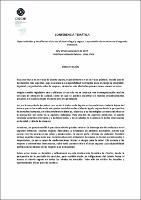 xmlui.dri2xhtml.METS-1.0.item-files-viewOpen
xmlui.dri2xhtml.METS-1.0.item-date
2017-11
xmlui.dri2xhtml.METS-1.0.item-author
Barajas, María José
xmlui.dri2xhtml.METS-1.0.item-abstract
El acceso real a los servicios de aborto seguro, especialmente en los servicios públicos, resulta uno de los desafíos más urgentes, pues su ausencia o disponibilidad restringida pone en riesgo la integridad, dignidad y seguridad de miles de mujeres, siendo las más afectadas quienes tienen menos recursos. Asimismo, un panorama difícil que aún enfrenta grandes retos es la interrupción del embarazo en el segundo trimestre. En la Conferencia Temática de CLACAI se debatieron estos temas desde la perspectiva de la provisión de servicios, pero también desde las obligaciones del Estado frente al acceso al aborto seguro, sin olvidar los desafíos y oportunidades éticos que ello conlleva. Incluye el programa de la conferencia
xmlui.mirage2.itemSummaryView.Collections
Related items
Showing items related by title, author, creator and subject.
xmlui.dri2xhtml.METS-1.0.no-author

(

CLACAI

,

2019-06-18

)

Se enmarca con el propósito de lograr que el aborto sea valorado como una atención esencial de la salud sexual y reproductiva de las mujeres, que impida que sean sometidas a embarazos forzados o no deseados. Esta conferencia ...

Ramón, Michel Agustina

;

Ariza Navarrete, Sonia

;

Chávez, Susana

(

Frontiers in Global Women's Health, section Contraception and Family Planning

,

2022-08-01

)

El rápido aumento de la demanda de servicios de salud como resultado del brote de COVID-19 ha creado importantes desafíos para los sistemas de salud. Las autoridades sanitarias nacionales e internacionales han declarado ...

xmlui.dri2xhtml.METS-1.0.no-author

(

La Mesa por la Vida y la Salud de las Mujeres

,

2019-11

)

Este documento se ocupa de las barreras que enfrentan niñas, jóvenes y mujeres migrantes venezolanas cuando solicitan servicios de aborto en Colombia, presenta algunos casos acompañados y conocidos por La Mesa por la Vida ...