Protocolo de atención a la embarazada menor de 15 años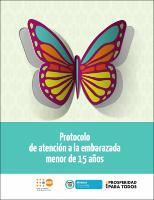 xmlui.dri2xhtml.METS-1.0.item-files-viewOpen
xmlui.dri2xhtml.METS-1.0.item-date
2014
xmlui.dri2xhtml.METS-1.0.item-author
Restrepo, Olga Lucía
Díaz, Ivonne
Farias, Nubia
Balcázar, Néstor
Quintero, Carlos A.
Romero, Eduardo
Urrego, Zulma
Moreno López, Diva Janneth
Mejía Gómez, Mary Luz
Ospino Rodríguez, Lorenza
Ortiz Lizcano, Edgar
xmlui.dri2xhtml.METS-1.0.item-abstract
Este documento ofrece información basada en la evidencia científica disponible y en el marco normativo vigente, para garantizar las condiciones de calidad necesarias: oportunidad, acceso, pertinencia, seguridad y continuidad en la atención institucional a las adolescentes que decidan continuar con su proceso de gestación. Fue elaborado por expertos en el tema, que trabajan distintos campos disciplinares y en diferentes ámbitos del sector de la salud y que comparten el interés por abrir caminos a los profesionales de salud y de ciencias sociales, que se enfrentan cotidianamente a brindar atención a las adolescentes embarazadas
xmlui.mirage2.itemSummaryView.Collections
Related items
Showing items related by title, author, creator and subject.
Gómez. Pio Iván

;

Molina, Ramiro

;

Zamberlin, Nina

(

Centro de Promoción y Defensa de los Derechos Sexuales y ReproductIvos-PROMSEX | | Federacion Latino Americana de Sociedades de Obstetricia y Ginecología |

,

2011

)

El embarazo en adolescentes menores de 15 años y el abuso y la violencia sexual como potencial causa de estos embarazos son problemas de salud pública y de derechos humanos que generan graves consecuencias biológicas, ...

Ganchimeg, T.| |Ota, E.| |Morisaki, N.| |Laopaiboon, M.| |Lumbiganon, P.| |Zhang, J.| |Mori, R.

(

Inernational Journal of Obstetrics Gynecology

,

2013

)

Tuvo como objetivo investigar el riesgo de resultados adversos del embarazo entre adolescentes en 29 países. El diseño utilizado fue un análisis secundario utilizando datos transversales basados en instalaciones de la ...

Consorcio de Atención Posaborto (APA)

(

Consorcio de APA

,

2005

)

Reconociendo que el aborto en condiciones de riesgo es uno de los principales contribuyentes a la mortalidad materna, especialmente para las mujeres jóvenes, el Consorcio de Atención Posaborto (APA) se complace en ...