Atención de niñas y adolescentes menores de 15 años embarazadas: Hoja de ruta para embarazo de alto riesgo obstétrico y psicosocial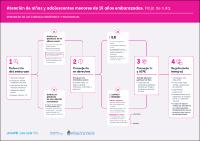 xmlui.dri2xhtml.METS-1.0.item-files-viewOpen
xmlui.dri2xhtml.METS-1.0.item-date
2019
xmlui.dri2xhtml.METS-1.0.item-author
Secretaría de Gobierno de Salud de la Nación. Ministerio de Salud y Desarrollo Social de la Nación
xmlui.dri2xhtml.METS-1.0.item-abstract
Detección del embarazo. Embarazo producto de un abuso sexual. Embarazo producto de una relación consentida. Consejería en derechos. Consejería y AIPE. Seguimiento integral
xmlui.mirage2.itemSummaryView.Collections
Related items
Showing items related by title, author, creator and subject.
Gómez. Pio Iván

;

Molina, Ramiro

;

Zamberlin, Nina

(

Centro de Promoción y Defensa de los Derechos Sexuales y ReproductIvos-PROMSEX | | Federacion Latino Americana de Sociedades de Obstetricia y Ginecología |

,

2011

)

El embarazo en adolescentes menores de 15 años y el abuso y la violencia sexual como potencial causa de estos embarazos son problemas de salud pública y de derechos humanos que generan graves consecuencias biológicas, ...

Ganchimeg, T.| |Ota, E.| |Morisaki, N.| |Laopaiboon, M.| |Lumbiganon, P.| |Zhang, J.| |Mori, R.

(

Inernational Journal of Obstetrics Gynecology

,

2013

)

Tuvo como objetivo investigar el riesgo de resultados adversos del embarazo entre adolescentes en 29 países. El diseño utilizado fue un análisis secundario utilizando datos transversales basados en instalaciones de la ...

Recoge los desafíos que implican los embarazos en adolescentes y las consecuencias inmediatas y duraderas en la salud, la educación y el potencial de las niñas. El Informe busca romper con la idea generalizada y errónea ...