Zika virus infection in Brazil and human rights obligations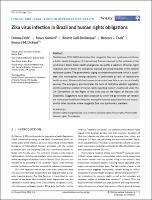 xmlui.dri2xhtml.METS-1.0.item-files-viewOpen
xmlui.dri2xhtml.METS-1.0.item-date
2016
xmlui.dri2xhtml.METS-1.0.item-author
Diniz, Debora
Gumieri, Sara
Gallu, Bevilacqua
Cook, Rebecca J.
Dickens, Bernard M.
xmlui.dri2xhtml.METS-1.0.item-abstract
The February 2016 WHO declaration that congenital Zika virus síndrome constitutes a Public Health Emergency of International Concern reacted to the outbreak of the syndrome in Brazil. Public health emergencies can justify a spectrum of human rights responses, but in Brazil, the emergency exposed prevailing inequities in the national healthcare system. The government's urging to contain the syndrome, which is associated with microcephaly among newborns, is confounded by lack of reproductive health services. Women with low incomes in particular have little access to such health services. The emergency also illuminates the harm of restrictive abortion legislation, and the potential violation of human rights regarding women's health and under the UN Conventions on the Rights of the Child and on the Rights of Persons with Disabilities. Suggestions have been proposed by wich the government can remedy the widespread healthcare inequities among the national population that are instructive for other countries where congenital Zika virus syndrome is prevalent
xmlui.mirage2.itemSummaryView.Collections
Related items
Showing items related by title, author, creator and subject.
Galli, Beatriz

;

Deslandes, Suely

(

2016

)

The Zika virus epidemic, officially declared a global emergency, and the threats of retrocession in the Legislative Branch, like Bill of Law n. 5.059, Brazil runs the risk of counteracting the measures needed to guarantee ...

Carino, Giselle

;

González Vélez, Ana Cristina

;

Durán, Juanita

;

Friedman, Jennifer

(

IPPF/WHR

,

2009

)

This publication is the result of a comparative analysis of laws and health regulations governing access to legal abortion in 13 countries: Bolivia, Brazil, Canada, Colombia, Guyana, Italy, Mexico, Norway, Panama, Peru, ...

International Campaign for Women's Right to Safe Abortion

(

International Campaign for Women's Right to Safe Abortion

,

2017-06

)

The June 2017 issue of Health and Human Rights includes a special section on the intersections between abortion and human rights, and in particular the use of legal mobilization around abortion rights at domestic and ...