Las cifras del aborto en la Argentina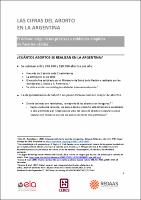 xmlui.dri2xhtml.METS-1.0.item-files-viewOpen
xmlui.dri2xhtml.METS-1.0.item-date
2018
xmlui.dri2xhtml.METS-1.0.item-abstract
Debate sobre la situación del aborto en Argentina en el cual se responden a las interrogantes siguientes: ¿Cuántos abortos se realizan en la Argentina? ¿Cuáles son las consecuencias del aborto inseguro?. ¿Cómo ha funcionado el aborto legal por causales? ¿Cuántos abortos legales se realizan en la Argentina? ¿Por qué abortan las mujeres? ¿Cómo se hace un aborto con altos estándares?
xmlui.mirage2.itemSummaryView.Collections
Related items
Showing items related by title, author, creator and subject.
Matía, Marisa

;

Trumper, Eugenia

;

Orlando Fures, Nery

;

Orchuela, Jimena

(

International Federation of Gynecology and Obstetrics

,

2016

)

OBJECTIVE: To describe the application of the risk and harm reduction model at primary care level to decrease the mortality due to unsafe abortion in the Province of Buenos Aires, Argentina, and evaluate the results. METHODS: ...

Zamberlin, Nina

;

Raiher, Sandra

(

2009

)

El presente informe reporta el desarrollo de una consultoría para el Consorcio Lartinoamericano contra el Aborto Inseguro (CLACAI)basada en una revisión bibliográfica y el diseño metodológico para la gestión de evidencias. ...

Grosso, Belén

;

Zurbriggen, Ruth

(

ELA; CEDES

,

2016

)

Socorristas en Red (feministas que abortamos) es una de las acciones colectivas por el acceso al aborto seguro con medicamentos, desarrollada por colectivas feministas radicadas en Argentina. Se conforma en el año 2012 ...